Not all playoff teams are constructed the same way. For proof, look no further than the Dodgers and Rays, who finished with the top records in the National and American Leagues, respectively.
The Dodgers have the second-highest Wins Above Replacement (21.1) — trailing only Atlanta (23.0) — and the most homegrown WAR (11.1) on their projected Division Series roster, featuring 15 players who signed and were developed by the organization. That group includes plenty of big names, including former first-rounders Clayton Kershaw, Corey Seager and Walker Buehler as well as later-round picks Cody Bellinger, Dustin May and Tony Gonsolin. And while Los Angeles has the fewest acquired players (six) among DS teams, the organization drastically improved its roster with the offseason addition of Mookie Betts, a 3.4-WAR player in '20.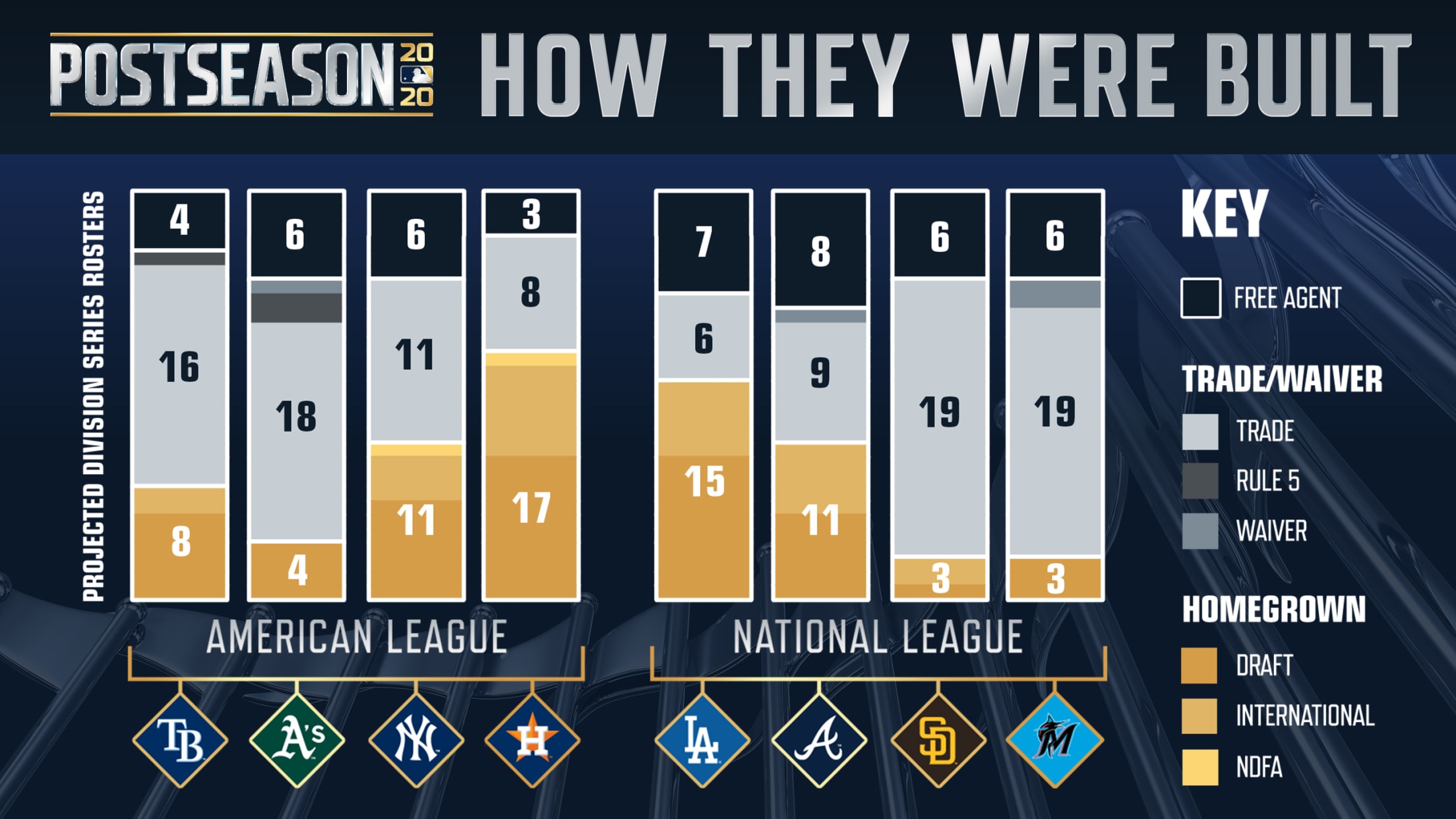 Tampa Bay, meanwhile, features eight homegrown players (led by Brandon Lowe and Blake Snell), four free agents (Charlie Morton), 15 trade acquisitions (Willy Adames, Tyler Glasnow, Nick Anderson and Randy Arozarena) and one Rule 5 Draft pick (Ryan Thompson) — all of which are roughly average, or slightly above, among postseason clubs.
Below is a detailed breakdown as to how each of the postseason teams was built:
A's
(13.6 WAR, 6th among 8 teams)
Homegrown: 4 (2.4 WAR)
• Draft: 4 (2.4 WAR)
Free agents: 6 (2.7 WAR)
Trades: 15 (7.4 WAR)
Rule 5: 2 (1.0 WAR)
Waivers: 1 (0.1 WAR)
The A's are in the postseason for the third straight year and while this is the first time in those three seasons they won the AL West, the recipe hasn't changed much. The A's are largely built via trade, tied for the third-highest amount of traded players of any playoff team. Jesus Luzardo, who came to the A's as a prospect, and Chris Bassitt lead the starters, while Liam Hendriks (acquired in November 2015 from the Blue Jays) anchors the bullpen. With Matt Chapman out for the year, Matt Olson is left to lead the small group of homegrown draftees on the roster, followed by rookie catcher Sean Murphy (3rd round, 2016). The half-dozen free agents have made moderate contributions, with Robbie Grossman leading the way WAR-wise (1.0), Jake Lamb taking on more importance with Chapman's injury and pitchers like Yusmeiro Petit (0.8) and Mike Fiers (0.6) important for the A's to make it to the ALCS for the first time since 2006.
Astros
(WAR, 7th among 8 teams)
Homegrown: 17 (7.5 WAR)
• Draft: 10 (4.5 WAR)
• International: 6 (3.1 WAR)
• NDFA: 1 (-0.1 WAR)
Free agents: 3 (0.5 WAR)
Trades: 8 (4.0 WAR)
Four former first-round picks form the heart of Houston's lineup: George Springer (2011), Carlos Correa (2012), Alex Bregman (2015) and Kyle Tucker (2015), the last three of whom were top-five selections. The Astros have the most homegrown Division Series club, thanks in part to an MLB-high six international signings, with Jose Altuve the famous but Cristian Javier, Framber Valdez and Jose Urquidy more productive this season. Though they feature an MLB-low three free-agent signings, Michael Brantley was a steal on a two-year, $32 million deal. Zack Greinke continues to provide value after coming over in a 2019 blockbuster trade with the Diamondbacks, while Andre Scrubb was a sneaky good pickup from the Dodgers in exchange for Tyler White last July.
Rays
(18.4 WAR, 3rd among 8 teams)
Homegrown: 8 (8.0 WAR)
• Draft: 6 (7.0 WAR)
• International: 2 (1.0 WAR)
Free agents: 4 (2.0 WAR)
Trades: 15 (8.5 WAR)
Rule 5: 1 (-0.1 WAR)
The Rays have the fifth-most homegrown talent among this year's playoff teams, but that group is tied with Atlanta for the second-most WAR in the category, thanks largely to the contributions of Brandon Lowe (2.1 WAR), Kevin Kiermaier (1.6) and Blake Snell (1.1). Tampa Bay's group of acquired talent, meanwhile, comprises more than half of the club's projected Division Series roster, with Willy Adames (1.6 WAR), Joey Wendle (1.2), Nick Anderson (1.1), Randy Arozarena (0.8) and Tyler Glasnow (0.8) leading the way. Charlie Morton is the most notable free agent signed by the Rays on their projected postseason roster, while hard-throwing reliever Diego Castillo headlines their contingent of international signees.
Yankees
(WAR, 5th among 8 teams)
Homegrown: 11 (2.2 WAR)
• Draft: 7 (2.4 WAR)
• International: 3 (0.5 WAR)
• NDFA: 1 (-0.7 WAR)
Free agents: 6 (6.2 WAR)
Trades: 11 (7.9 WAR)
The Yankees are synonymous with spending, and they have more free-agent WAR (6.2) than any other Division Series club. While Gerrit Cole (nine years, $324 million) and Aroldis Chapman (three years, $48 million) signed for bigger money, their best player in 2020 originally acquired as a free agent was D.J. LeMahieu, who cost them just $24 million for two years of tremendous production. New York has gotten a lot out of trades, getting steals in J.A. Happ (for Brandon Drury and Billy McKinney from the Blue Jays in 2018), Luke Voit (for Giovanny Gallego and Chasen Shreve from the Cardinals in 2018) and Gio Urshela (cash deal with the Blue Jays in 2018). They generated many more headlines with moves that landed them Gleyber Torres (part of a package from the Cubs for Chapman in 2016), Clint Frazier (part of the return from the Indians for Andrew Miller in 2016) and the oft-injured Giancarlo Stanton (from the Marlins in a 2017 fire sale). The Yankees didn't receive as many homegrown contributions this season as they have recently because Aaron Judge (2013 first-rounder) and Masahiro Tanaka (2014, Japan) battled injuries, Brett Gardner (2005 third-rounder) showed his age and Gary Sanchez (2009, Dominican Republic) slumped.
Braves
(23.0 WAR, 1st among 8 teams)
Homegrown: 11 (8.0 WAR)
• Draft: 6 (5.2 WAR)
• International: 5 (2.8 WAR)
Free agents: 8 (4.4 WAR)
Trades: 8 (9.9 WAR)
Waivers: 1 (0.7 WAR)
This is their third National East title in a row and they have the highest WAR of any postseason team in any Division Series. The 11 homegrown players are split almost evenly (6 Draft, 5 international signees), led by MVP candidate Freddie Freeman on the Draft side and Ronald Acuña Jr. from their efforts on the international market. Two draftees, Ian Anderson and Kyle Wright, who were top five overall picks in 2016 and 2017, will be relied upon to fill spots in the postseason rotation. During their rebuild, the Braves made some key trades for prospects, and now Max Fried (Dec. 2014 deal with the Padres) and Dansby Swanson (Dec. 2015 deal with the D-backs) are key parts of this year's playoff roster. The Braves have more free agents than any other postseason team and most have made moderate contributions, though the big free-agent signing for 2020, Marcell Ozuna, is fourth on the team in WAR this year (2.3).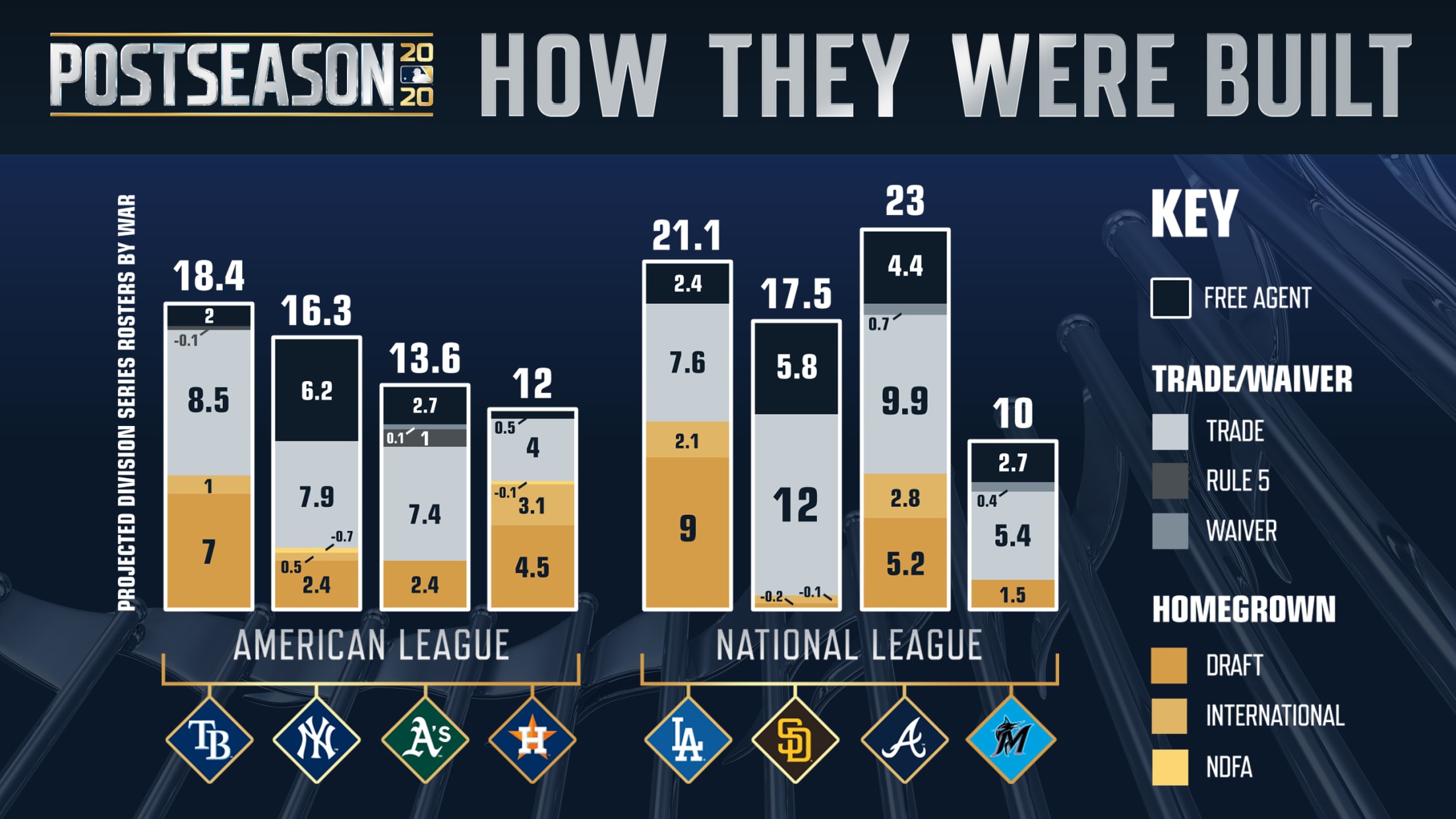 Dodgers
(21.1 WAR, 2nd among 8 teams)
Homegrown: 15 (11.1 WAR)
• Draft: 10 (9.0 WAR)
• International: 5 (2.1 WAR)
Free agents: 7 (2.4 WAR)
Trades: 6 (7.6 WAR)
The Dodgers continue to win NL West titles — eight in a row — while churning out a ton of homegrown talent. They've hit big on first-round picks Clayton Kershaw, Corey Seager, Walker Buehler and Will Smith as well as later-round choices Cody Bellinger, Dustin May and Tony Gonsolin, leading all Division Series clubs in terms of Draft choices and Draft WAR on their playoff roster. They also rank second with five international signees, the most prominent of whom are Kenley Janson, Julio Urias and Victor Gonzalez. Los Angeles used some of its surplus homegrown talent to trade for likely NL MVP Mookie Betts. They've made several small moves that have turned into steals, such as dealing for Enrique Hernandez (a throw-in in the Dee Gordon trade with the Marlins in 2014) and Chris Taylor (from the Mariners for Zach Lee in 2016) and signing lightly regarded free agents Justin Turner ($1 million Minor League deal in 2014) and Max Muncy (released by Athletics in 2017).
Marlins
(10.0 WAR, 8th among 8 teams)
Homegrown: 3 (1.5 WAR)
• Draft: 3 (1.5 WAR)
Free agents: 6 (2.7 WAR)
Trades: 17 (5.4 WAR)
Waivers: 2 (0.4 WAR)
The rebuilding Marlins made the playoffs ahead of schedule with a roster consisting mostly of players originally signed by other organizations. They tied for last among Division Series teams with just three homegrown products — all draftees and with 2014 third-rounder Brian Anderson the only one to generate positive WAR in 2020. The majority of the club arrived via trades. Sandy Alcantara was part of the Marcell Ozuna deal with the Cardinals in 2017 and Sixto Sanchez was the key to the J.T. Realmuto swap with the Phillies in 2019. Other less-heralded trades also paid off, such as getting Miguel Rojas as the most lightly regarded piece of a seven-player deal with the Dodgers in 2014, Pablo Lopez as part of a package from the Mariners for David Phelps in 2017 and James Hoyt for cash from the Indians in August. Miami also got good value out of low-cost free-agent signings with Brandon Kintzler (one year, $3.25 million), Yimi Garcia (one year, $1.1 million) and Jon Berti (Minor League deal two offseasons ago before re-signing for one year, $595,000).
Padres
(17.5 WAR, 4th among 8 teams)
Homegrown: 3 (-0.3 WAR)
• Draft: 1 (-0.2 WAR)
• International: 2 (-0.1 WAR)
Free agents: 6 (6.1 WAR)
Trades: 19 (12.6 WAR)
Padres general manager A.J. Preller aggressively bolstered his playoff-bound roster at this year's Trade Deadline, acquiring players such as Mike Clevinger (from Indians), Trevor Rosenthal (Royals), Austin Nola (Mariners) and Mitch Moreland (Red Sox) in separate deals. As a result, the Padres are tied with Miami for the most acquired talent (19) on a projected Division Series roster this year and rank first in the category in WAR (12.0), thanks to contributions by Fernando Tatis Jr. (2.5 WAR), Trent Grisham (2.2) and Wil Myers (1.6). No Padres player had a higher regular-season WAR than Manny Machado (2.8), one of six free agents on their projected roster. All of those trades and free agent signings have cut into the amount of homegrown talent on San Diego's roster, though, as they have the fewest homegrown players (three — and only one Draft pick) and the lowest homegrown WAR (-0.3) of all the playoff teams.