To where? For how long? For how much?
Taylor Hall's decision to sign a one-year, $8-million contract with the lowly Buffalo Sabres on Sunday evening stunned the hockey world from so many different angles. Check that – just about every angle.
But it's true. Hall, a game-changing left-winger and the hottest commodity on the 2020 free-agent forward market, is willingly joining the team with the league's longest active playoff drought after competing in only 16 postseason games through the first 10 years of his NHL career. To be frank, Hall is betting on himself, agreeing to a show-me contract amid a pandemic and a flat salary cap.
This deal is also the ultimate sign of the times, a microcosm of the economic uncertainty surrounding the sport and the NHL in the face of COVID-19. There's no money in the system right now – Hall probably would have commanded $9 million to $10 million annually over five, six, or seven years in normal times – and nobody knows when the 2020-21 season will begin. How long revenues will sag and how hockey will look next offseason are puzzles themselves.
This environment has created a perfect storm for a player of Hall's caliber – the 2018 Hart Trophy winner, a three-time all-star, and the 2010 first overall pick – to do something unexpected and bold. Just two months ago, Hall told reporters that, "Honestly, it's probably all winning" when asked what was most important to him as he eyed free agency for the first time in his career.
But winning and the Sabres are not synonymous whatsoever. So that line of thinking carries no weight. Beneath the surface, though, there is a case to be made for Hall's decision, even with the Colorado Avalanche, Boston Bruins, and Nashville Predators among the other teams expressing interest in signing him.
Most importantly, Jack Eichel, a top-10 center in the NHL every day of the week, will be his running mate. One of Buffalo's top in-house wingers, whether it's Jeff Skinner, Victor Olofsson, or Sam Reinhart, will likely line up on the right side of Eichel with Hall on the left flank. That's a potent top line, to say the least. And keep in mind: Hall has never played alongside a player as talented as Eichel for any great length of time. There is a huge draw there.
There's also the very real possibility of frequently sharing the ice with dynamic defenseman Rasmus Dahlin, who, while not praised to the level of Cale Makar, Quinn Hughes, or Miro Heiskanen, is almost certainly a Norris Trophy contender in waiting. What's more, Eric Staal, acquired by Sabres GM Kevyn Adams in a September trade with the Minnesota Wild, is a quality second-line center; teams tempted to focus all of their energy on shutting down Hall and the rest of the big guns better think twice.
In terms of the Sabres' pitch, the fact that Hall and Sabres head coach Ralph Krueger got along wonderfully during their brief time together with the Edmonton Oilers in 2012-13 is an easy add-on to the Eichel factor. Krueger seems genuinely beloved by players of all kinds, and Hall is clearly enamored. Krueger has a penchant for connecting with stars, in particular.
So put yourself in Hall's shoes for a moment. Sure, Buffalo has struggled to turn the corner on its seemingly endless rebuild. But the high-end pieces are there. And what's so risky about a one-year commitment? If things go poorly, there's no shame in heading back to free agency in 2021.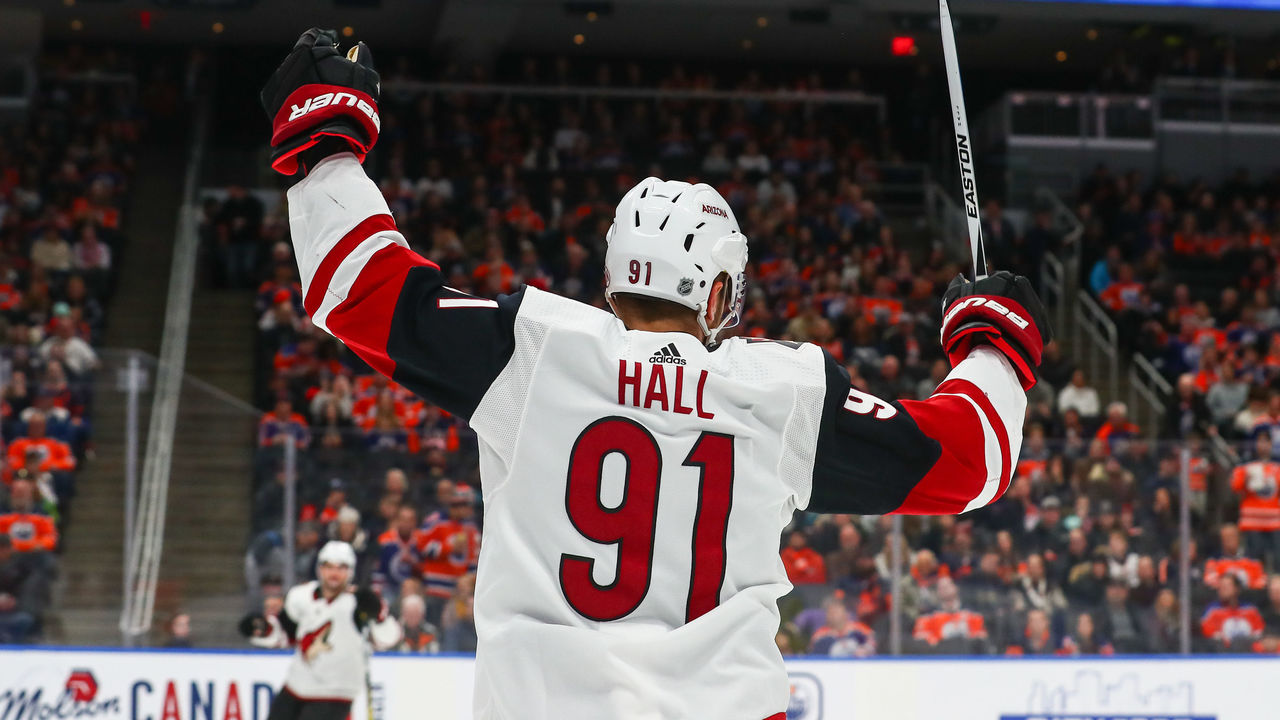 If Hall is ultimately playing the long game here – which he certainly seems to be – there are worse places to land. He's not coming off a particularly strong year, recording a ho-hum 52 points in 65 games in a tumultuous season split between the New Jersey Devils and Arizona Coyotes. The native of Calgary needs to reboot his value, and riding shotgun beside Eichel is a quick, playmaking winger's dream. The duo will be a nightmare to defend, especially in transition and on the power play.
Hall, who's listed at 6-foot-1 and 205 pounds, turns 29 in November. He's no longer young by NHL standards, and he's endured his fair share of injury troubles through stops in Edmonton, New Jersey, and Arizona. He's had two seasons with 80 points or more, but he's in no way cemented himself as a guaranteed, knock-em-dead producer every single time he's on the ice.
In other words, there is a greater-than-zero-percent chance he doesn't enjoy a monster season in Buffalo. Even though the risk is low, he's still taking a leap of faith because the Sabres have been so dysfunctional for so long. As of this writing, Hall had not spoken publicly about the decision. Perhaps he can fill in a few blanks for us, such as:
To Buffalo? For one year? For $8 million?
John Matisz is theScore's national hockey writer.